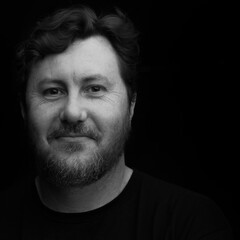 Jake Hempson
concept artist/art direction
Sydney, Australia
Summary
I am a senior creative, with experience in both concept art/art direction, modelling and texturing for vfx and game development.

15+ years professional modelling and texturing experience.
Concept design/art direction for film /games.
Team Lead experience.
Outsourcing management experience. (Feedback, direction, assistance and reviews)
Character Animation experience.
Education and teaching experience.
Specializing in character/creature concept creation through digital sculpting.
Asset creation for Film, TVC and Video Games, props vehicles and environment.
A thorough understanding of human anatomy and muscle construction.
Rigging, blend-shapes and skinning.
Photogrammetry/scan clean up re-topology for up for digital doubles/animation.
Texture/Surfacing experience for Film, TVC and Games.
Skills
Concept Design
3D Modeling
3D Printing
Creature Modeling
Creature Design
Software proficiency